Alyssia Pasha Sastrosatomo
Investment Management Senior Specialist (Product and Technology) at Telstra
---
Alyssia works at Telstra in Product and Technology in Melbourne, where she is the function's investment management senior specialist. As part of her role, Alyssia manages capital allocation and investment decisions for product development, maximising Telstra's return on invested capital through financial and commercial evaluation. Prior to her current role, Alyssia was also Telstra's Country Program Manager for Indonesia.
In Indonesia, Alyssia has gained considerable experience in financial advisory and corporate finance. After her experience in global mergers and acquisitions, she worked on projects focusing on providing strategic solutions to global clients and advised governments, state owned enterprises and industry to deliver transformative infrastructure assets in the region.
Alyssia has spent the last 11 years between Australia and Indonesia for study and pleasure. She holds a Bachelor degree from the University of Melbourne, double majoring in Marketing and Business Management and was awarded the New Generation International Undergraduate Grant. She was also President of AIYA Jakarta from 2014–2017.
Lead Researcher at Kemitraan (Partnership for Governance Reform)
---
Astri has worked on a wide range of development and public policy issues in Indonesia representing international organizations, research institutes and the private sector. In her latest work, she conducts research on carbon market governance and policy in Indonesia, and supports review on the implementation of special autonomy fund for Papua and West Papua.
In the past, she was an analyst at Vriens & Partners providing policy and political analysis for private sectors. Prior to that, Astri was a Research Associate at Abdul Latif Jameel Poverty Action Lab (J-PAL) Southeast Asia, where she oversaw a quantitative and qualitative research project in collaboration with the Harvard Kennedy School of Government. She had worked for several United Nations bodies. She holds a double Masters degree in Public Policy and Diplomacy from ANU.
---
Doni was until recently the facilitator of IDEP Foundation, a local NGO building community resilience where he helped designs community development programs. Wherever IDEP uses permaculture principles for community engagement, he has witnessed rural and small island communities claim back their food security and the impact of climate change. Now, Doni is pursuing his Masters degree in Environment with Specialisation in Climate Change at the University of Melbourne under the Australia Awards Scholarship program. The aim of his study is to develop tools to increase Indonesia's community resilience facing climate change.
Public Relations Specialist at Ministry of Finance
---
Fitri is a passionate bureaucrat who aspires to refresh the face of Indonesian bureaucracy. Having 10 years' experience in government, Fitri has served in wide-ranging fields from IT, budgeting, procurement, bureaucracy reform and transformation to public relations. Currently she serves as the Government Public Relations Specialist for the Indonesian Ministry of Finance.
Fitri is also involved in diverse activism. She co-founded two network platforms to empower and to connect the young bureaucrats, namely Kemenkeu Muda, which has 20 chapters across Indonesia, and Aparatur Muda with 80 members from 40 public service institutions. In 2015, she co-initiated Hollaback! Jakarta, a global movement to end sexual harassment in public spaces. Formerly, she was Co-Director of Partnerships and Membership for AIYA. She is two-times TEDx-STAN speaker.
Researcher at CSIS Indonesia
---
Fitriani is a researcher at the International Relations Department at the Centre for Strategic and International Studies (CSIS) Indonesia. Broadly, her research focus includes defence and security in Asia Pacific, women in peace and security, non-traditional security, as well as Indonesia politics and foreign policy. She obtained her PhD in Security and Defence Studies from Cranfield University in the UK. She has held research and visiting positions at the Philosophy and Political Science Faculty, Technical University of Dortmund in Germany; the S. Rajaratnam School of International Studies, Nanyang Technological University, Singapore; and the Centre for Asian Studies, Ateneo de Manila University, Philippines. She taught transnational security and gender in international relations at the University of Indonesia.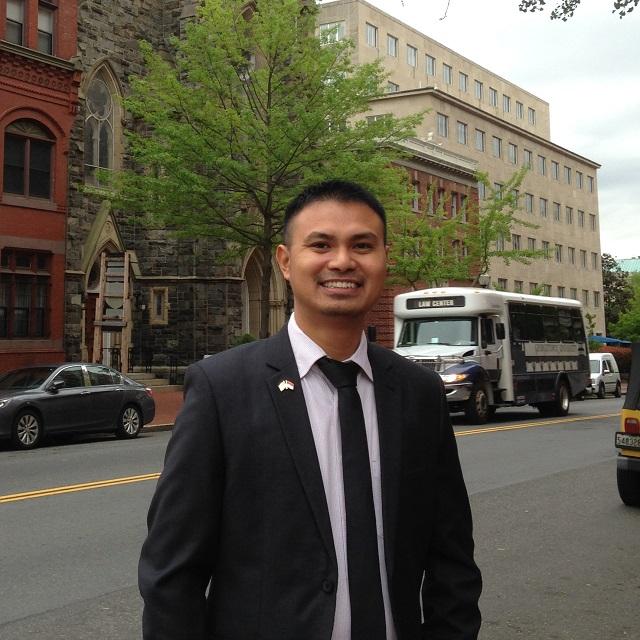 IT Policy Head at Centre of Financial Information Systems and Technology, Ministry of Finance
---
Joos is the Head of IT Policy Subdivision at the Centre of Financial Information Systems and Technology, Indonesia's Ministry of Finance. He holds a Bachelor of Informatics Engineering from De La Salle University of Manado and a Master of Business Process Management from Queensland University of Technology.
During his time in Brisbane, Joos was active in various activities related to the Indonesia-Australia relationship, such as his involvement in PPIA as the Head of Members Development in 2014-2015, his role as a Brisbane International Student Ambassador, and his participation in the ASEAN-Australia Youth Summit and G20 Leaders Summit 2014.
After returning home, he is still actively involved in Australia Global Alumni and QUT Indonesia Alumni activities. He was elected as a delegate in the Professional Fellows Program 2015 organised by United States Department of State. Joos was an Indonesian delegate in CAUSINDY 2016.
Nadia Sekarsari Anindyati
---
Nadia Atmaji is a journalist for Metro TV. Her job includes commencing live reports, producing news packages, and focusing on politics, economic and international issues. She builds networks through interviews with key political leaders in the parliament and government sector. She has planned and launched a flagship political special report called Catatan Pewarta Parlemen, focusing on scrutinizing the work of politicians.
Her coverage includes: Indonesia's first simultaneous legislative and presidential election (Jakarta, 2019), IMF World Bank Group Annual Meetings (Bali, 2018), CAUSINDY 2017, the Jakarta gubernatorial election (Jakarta, 2017), and the Peat restoration system in Kyoto, Tokyo and Hokkaido (Japan, 2016).
During her spare time, she loves to read books, watch Netflix and explore new places.
---
Olivia is a development consultant with over 9 years' experience in the interdisciplinary issues of environment, climate change, public policy, agricultural and youth empowerment issues, working with the government, NGOs and academic institutions. Olivia has lived in Australia, Nepal, Colombia, USA and has travelled to over 40 countries for her work and advocacy activities.
Olivia completed her double Masters degree (Masters of Environmental Management and Development, and Masters of Diplomacy) at ANU under the Australian Awards Scholarship. She is also a recipient of the 2013 Allison Sudradjat Prize by DFAT. In her spare time, she occupies herself writing her second book and running a podcast called Living in Bali.
---
Rio works as a consultant for multiple development programs at Eastern Indonesia Knowledge Exchange (BaKTI) in Makassar. Working in the sphere of development sector for almost a decade, Rio focuses his expertise in evidence-based and research-based public policymaking and knowledge sharing as tangible means to elevate development effectiveness in Indonesia.
Since his tenure with BaKTI, Rio has overseen four donor-funded development programs, where he worked alongside with provincial and district/city governments, local researchers, local NGOs, and international agencies and projects such as The World Bank, The Asia Foundation and the Australia-Indonesia Partnership for Decentralisation (AIPD).
Rio earned his Bachelor degree in International Relations at Universitas Hasanuddin in Makassar, and in 2018 completed his Master of International Development Practice with an emphasis on Governance and Democracy at Monash University under the Australia Awards Scholarship.
Head of Web Management Sub-Division at Vice President's Office
---
Siti is an alumna of the School of Humanities and Social Sciences, University of Melbourne, where she completed a Master Degree in Global Media Communications with research into how two mainstream Australian media, The Australian and The Age, portrayed Australia's first female Prime Minister, Julia Gillard.
Under the SBY-JK administration, Siti worked as an interpreter in the Vice President's Office. Under the SBY-Boediono leadership, she was assigned as Head of Sub-Division of General Media. One of her responsibilities was disseminating strategic programs through the MERSELA magazine. Currently, under the Jokowi-JK governance, as Head of Sub-Division of Web Management she manages website on a daily basis.
She believes that media has a key role in Indonesia-Australia relations. Australian and Indonesian public perceive each other countries through the news and opinions that are portrayed in the media of both countries.
Tisha Eulean Cybill Rumbewas
Director at SAGU Foundation
---
Tisha is the co-founder and director of SAGU Foundation in her hometown of Jayapura, Papua. The non-profit organization was established in 2015 with focus on HRD and research in the Papua Province. Tisha joined CAUSINDY 2018 in Makassar.
She earned her Masters degree in 2015 from the University of Wollongong under the Australia Awards Scholarship. Her MSc research project was on phytochemical studies on A. scholaris in Papua. She received funding from DFAT in 2015 under the Alumni Grant Scheme to complete a research project entitled "Identification of Traditional Medicinal Plants in the Kurudu Island".
Tisha was selected as a U.S. State Department-funded YSEALI fellow in 2017 and completed a 4-week internship at Brainfood in Washington, D.C.
Owner at K-CASE Law Office
---
Yudistira was a CAUSINDY delegate in 2018 and is an alumnus of the prestigious international scholarship Australia Awards. After completing his Masters degree at Melbourne Law School, he has fostered his professional aspiration as a corporate lawyer. He is the owner of K-CASE Law Office, a law firm based in Jakarta with international co-counsels located in Tokyo, Kuala Lumpur and Melbourne. Such expansion provides some great international business networks that include the Japanese External Trade Organization (JETRO), the Malaysia–China Chamber of Commerce, and the Australia Indonesia Business Council (AIBC). Currently, he is the AIBC Ambassador for youth entrepreneur outreach young in both Australia and Indonesia. He hopes his role will significantly strengthen the linkages between Australia and Indonesia in the business sector.